#15: How To Build Great Software | Mats Ljunggren on Sergey Ross Growth Podcast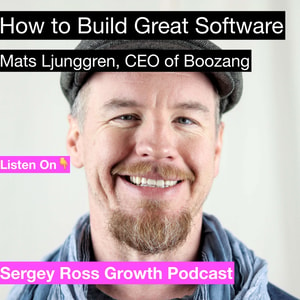 OK, today we are (finally, yay!) talking about building great products and software quality testing with Mats Ljunggren. He is sharing a lot of cool insights from his career and experience building his own company Boozang. Here are some of the things you will know about:
How Mats is building his SaaS software automation company Boozang

Why positioning and customer feedback is so important in today's software landscape

How to ship software faster
Before you go, please leave a ⭐⭐⭐⭐⭐⭐ review and share the podcast with your friends! Be sure to check out more insights on my Instagram @sergeyross.live and follow my Facebook page @sergeyrosslive.
**Follow Mats and his company Boozang (be the first to know about level 4 automation testing, seriously)
**Grab a book Mats recommends below (Disciplined Entrepreneurship: 24 Steps to a Successful)