Solo #3 | How To Spend Time Effectively + Daily Routines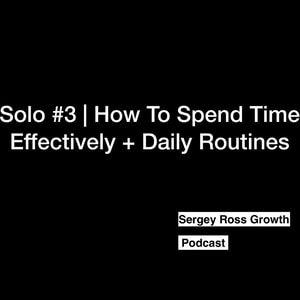 If you guys are into maximizing your time during the day to get a lot done, you will enjoy this episode.
I'm sharing what I've learned about effective time management and how I've applied it in my workflow. Also, I talk about the importance of the evening routine.
Before you go, please leave a ⭐⭐⭐⭐⭐⭐ review and share the podcast with your friends! Be sure to check out more insights on my Instagram @sergeyross.live and follow my Facebook page @sergeyrosslive.
**Follow Me On Your Favourite Platform