#52 Chris Walker on Why B2B SaaS Companies Must Rethink Their Marketing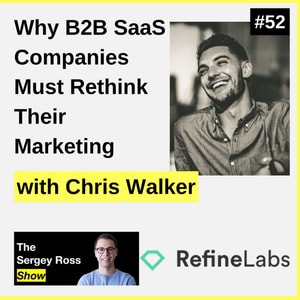 This is a marketing heavy chat, but the one I think you'll learn a ton from. I'm interviewing an obsessed marketer Chris Walker who is also the CEO of Refine Labs. Chris pushes companies to rethink how to they approach their-go-to-market strategy and explains in detail why traditional B2B playbook is wrong.
I ask him how did he learn so much marketing so fast (he's 30 years old), his principles and structure of learning, time management, routines and the mindset.
One thing before you take off: Sign Up for my weekly email list for the latest productivity, time management tools and hacks here
Connect with Chris on Linkedin
List of books mentioned in this interview
The Icarus Deception: How High Will You Fly? by Seth Godin (Author)
Digital Darwinism: Survival of the Fittest in the Age of Business Disruption Paperback – by Tom Goodwin
About Refine Labs
Our Revenue Engine Optimization formula helps B2B companies grow revenue, increase pipeline velocity, and lower customer acquisition costs.
Consider us as an extension of your internal team for business growth and marketing innovation. Our core formula has been shaped, iterated, and battle-tested over the last 7 years in B2B companies ranging in revenue from $2MM to $50MM. Our results are consistent and span across industries including medical devices, industrial, scientific, and health/wellness.
Find out more at https://sergey-ross-podcast.pinecast.co