#45 Bob Langert on Leadership and Sustainability at McDonald's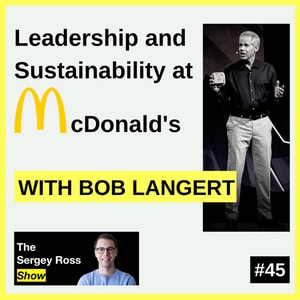 Today I'm interviewing Bob Langert, the first McDonald's VP who led sustainability efforts before retiring in 2015. We are speaking about leadership, influence, corporate responsibility, Bob's favourite books and career lessons he learned after spending over 30 years at McDonald's.
Before you go: have an idea who I should interview next? Drop me a message on Linkedin or Email me directly
About Bob Langert He is a TED speaker and recently did a talk called "The business case for working with your toughest critics". As VP of sustainability at McDonald's, Bob shaped the restaurant chain's commitment to the environment, supply chain sustainability and balanced menu choices. In January 2019, he published The Battle to Do Good; Inside McDonald's Sustainability Journey. He shares how he addressed some of the most significant societal issues of our times -- obesity, waste and packaging, deforestation in the Amazon, animal well-being and much more. 
Connect with Bob Linkedin Twitter GreenBiz Publication
Books mentioned on the show
The Battle To Do Good: Inside McDonald's Sustainability Journey
The Last Lion: Winston Spencer Churchill: Defender of the Realm, 1940-1965
Find out more at https://sergey-ross-podcast.pinecast.co