#53 Oleg Rogynskyy on Hiring People Smarter Than You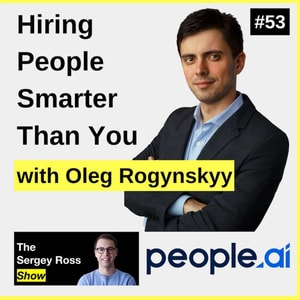 In this interview I sat down with the CEO of People.ai Oleg Rogynskyy to do the run through of hypothetical questions I usually ask my guests. You'll get a sense of how Oleg thinks, what makes him tick, how he makes decisions that got him where he is now.
We cover things like what Oleg has learned from his journey of being the CEO so far, what kind of mentors he hangs out with it, how he prefers to work, his favourite books and more.
One thing before you take off: Sign Up for my weekly email list for the latest productivity, time management tools and hacks here
About Oleg Prior to People.ai Oleg helped start and scale three AI/machine learning companies, two of which, including Oleg's own Semantria, were subsequently acquired. He has a strong interest in data science, machine learning, and NLP.
Connect with Oleg on linkedin
About People.ai
People.ai accelerates enterprise growth through the power of AI. With the industry's only Revenue Intelligence System, People.ai frees all customer-facing teams, including sales, marketing, and customer success, from manual data entry by automatically capturing all contacts and customer activity data, dynamically updating the CRM and providing actionable intelligence across all management tools, allowing them to realize their full selling capacity. Headquartered in San Francisco, People.ai has been recognized as a Gartner Cool Vendor and backed by Y Combinator and Silicon Valley's top investors, including ICONIQ Capital, Andreessen Horowitz, and Lightspeed Venture Partners.
List of books mentioned in this interview
Who: The A Method for Hiring by Geoff Smart (Author), Randy Street (Author)
What You Do Is Who You Are: How to Create Your Business Culture Hardcover by Ben Horowitz (Author)
The Hard Thing About Hard Things: Building a Business When There Are No Easy by Ben Horowitz (Author)
Measure What Matters: How Google, Bono, and the Gates Foundation Rock the World by John Doerr (Author)
Trillion Dollar Coach: The Leadership Playbook of Silicon Valley's Bill Campbell by Eric Schmidt (Author)
Find out more at https://sergey-ross-podcast.pinecast.co