#49 The CEO of VersaPay on What Success Really Means to You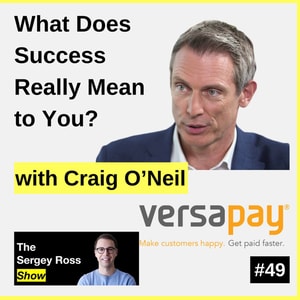 I had a lot of fun interviewing the CEO of Versapay Craig O'Neil. We are deconstructing how Craig thinks, his routines, career lessons, habits, leadership tools he has learned over the decades in business. And of course this conversation would not be complete without me asking about his favourite books.
Hope you enjoy this one!
One thing before you take off: Have an idea who I should interview next? Or what kind of questions you want my guests to answer? Drop me a message on Linkedin or Email me directly
About Craig Craig O'Neill is a serial software entrepreneur and the CEO of a fintech company based in Toronto Versapay. Craig was a co-founder and CEO of a company called Xeye back in 2000.
VersaPay is a Fintech company that changes the way thousands upon thousands of companies do business together by reinventing the accounts receivable process
Connect with Craig on LinkedIn AND Learn more about what Versapay does
List of books mentioned in this interview
The Five Dysfunctions of a Team: Team Assessment Pamphlet – Apr 24 2012 by Patrick M. Lencioni
The Ideal Team Player: How to Recognize and Cultivate The Three by Patrick M. Lencioni 
Radical Candor: Fully Revised & Updated Edition: Be a Kick-Ass Boss Without Losing Your Humanity by Kim Scott
Find out more at https://sergey-ross-podcast.pinecast.co