#16: April Dunford | Positioning Your Startup to Make It Awesome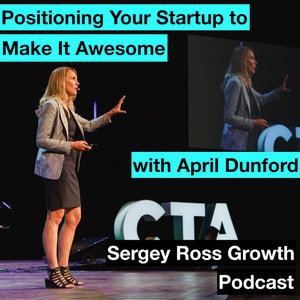 I'm pumped to share this episode with you all. Here, I'm chatting with a startup executive April Dunford about startup positioning, product market fit and creating a market category.
Here are some of the things you will know about:
How April got into marketing

Product/service positioning and why it's so hard for businesses to get right

April's book recommendations
Before you go, please leave a ⭐⭐⭐⭐⭐⭐ review and share the podcast with your friends! Be sure to check out more insights on my Instagram @sergeyross.live and follow my Facebook page @sergeyrosslive.
Follow April and her work:
Grab a set of awesome books April recommends:
Positioning: The Battle for Your Mind Amazon
Crossing the Chasm Amazon
The Four Steps to the Epiphany Amazon