#17: Marija Vukic | Why The Work Should Never Suck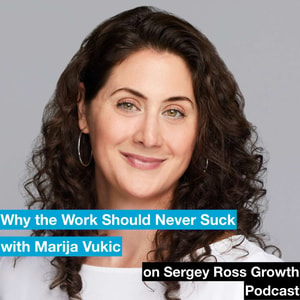 I'm delighted to have Marija Vukic as a guest on this show. She is one of the top talent executives in Toronto and a CEO of Plug and Play Talent. We talk hiring, personality tests, company culture and more. Deep insights all-round.
Here are some of the things you will know about:
Scaling company culture and its pitfalls

What it felt like to become a CEO

What Marija is looking for in someone when hiring
Before you go, please leave a ⭐⭐⭐⭐⭐⭐ review and share the podcast with your friends! Be sure to check out more insights on my Instagram @sergeyross.live and follow my Facebook page @sergeyrosslive.
**Follow Marija and her company:
**Grab Marija's book suggestion:
Work Rules!: Insights from Inside Google That Will Transform How You Live and Lead Amazon