#66 James Carbary dives deep into how you can create a podcast for your business and market it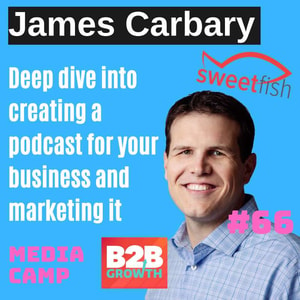 One of my favourite episodes so far. If you are into podcasts, you will learn a lot.
I'm chatting to James Carbary who started the whole company (Sweet Fish Media) to just produce podcasts for brands.
He has also runs top B2B podcast out there called "B2B Growth" with 3.5 million downloads and over 1,600 episodes.
Here's what we cover in this extensive interview:
how you produce a podcast at scale
how you position your show and grow your audience
what interview structure you should use to stand out and deliver max value to your audience
how to get huge engagement on your linkedin posts
Connect with James on:
Linkedin Website B2B Growth Podcast
Say HI to me on Linkedin I'd love to connect Linkedin