#61 Tukan Das on going from 88% outbound to 77% inbound via content marketing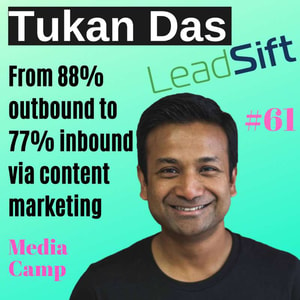 This is easily one of my best content interviews to date. I had a pleasure to chat with Tukan Das, the CEO of Leadsift (B2B SaaS) about the magic of inbound content marketing.
We are talking specifics and data in this episode so you can actually apply a lot of ideas and you will get results.
Here are a few talking points worth mentioning:
how Tukan went on to generate almost all his business, 77%, from content marketing
what can you do with YouTube pre-roll ads
how Leadsift produces micro-content and on what platforms they apply it
how Tukan is doing short video interviews with influencers in B2B
Say hi to me on Linkedin I'd love to connect Linkedin
Connect with Tukan on Linkedin Twitter
Check out Leadsift
Cool marketing folks Tukan follows: