#60 Katie Martell on how to find your own voice in marketing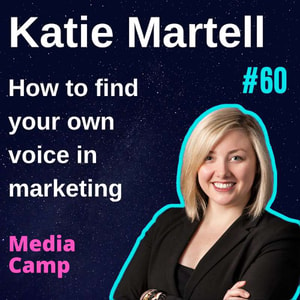 In the episode #60 I had a pleasure to meet a real brand builder, former marketing CMO and a marketing consultant Katie Martell.
We talk a lot about marketing, influence and PR, but the underlying theme of the conversation is building your brand.
Here are 3 main aspects we cover in detail:
Why you should be building your brand regardless of your role
Why Katie stayed in consulting after being a CMO
What she's looking for in ideal client to work with
More about Katie: – One of the top 10 marketing writers on LinkedIn – #3 Most influential B2B marketer on Twitter – A "marketing expert to follow" by CIO Magazine – One of 20 Women to Watch in Sales Lead Management – Top 100 influencer in content marketing
Katie has been invited to speak at a variety of marketing industry events including TEDx, FutureM with MITX, MarketingProfs B2B Forum, BMA, DX Summit, B2B Summit, Young Women in Digital, and universities including Emerson, Northeastern, BU, and Babson College.
Sign up for Katie's newsletter Check out Katie's work on her site
Books mentioned on the show
Writing the Mind Alive: The Proprioceptive Method for Finding Your Authentic Voice
Everybody Writes: Your Go-To Guide to Creating Ridiculously Good Content