#55 Charlie Gilkey on How to Measure Your Life Metrics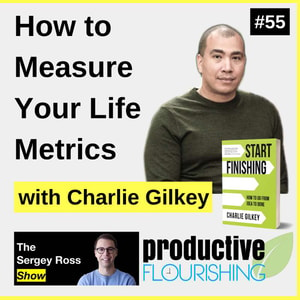 This is one of the most in-depth productivity focused interviews I have done on this show (!!). I'm chatting with Charlie Gilkey, the founder of Productive Flourishing, and the author of the book Start Finishing: How To Go From Idea to Done.
Charlie goes deep into details of what it actually takes to get your work done. I'm asking him questions about productivity, finding where you are the strongest at, how to have a better focus, hypothetical Tim Ferris style questions and books he considers a must read.
Connect with Charlie on Twitter
Check out Productive Flourishing Productive Flourishing helps professional creatives, leaders, and changemakers take meaningful action on work that matters. He is internationally known as a thought leader on productivity, planning, strategy, and leadership for creative people.
Get free planners here
List of books mentioned in this interview
Start Finishing: How to Go from Idea to Done by Charlie Gilkey
Triggers: Creating Behavior That Lasts--Becoming the Person You Want to Be by Marshall Goldsmith
Eight Dates: Essential Conversations for a Lifetime of Love by John Gottman
How to Live a Good Life: Soulful Stories, Surprising Science, and Practical Wisdom by Jonathan Fields
Find out more at https://sergey-ross-podcast.pinecast.co