#50 The CEO of Brain.fm Dan Clark on daily habits, planning and working smart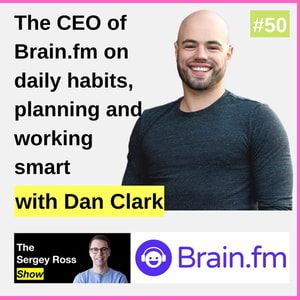 My guest today went to work for his current company (brain.fm) for free to prove himself before being appointed the CEO. He has extreme routines and one time even relocated to Asia to keep his schedule the way he wants.
We are chatting about Dan's obsession with biohacking, the science behind brain.fm music, habits, routines, distractions, lots of hypothetical questions and more.
One thing before you take off: Have an idea who I should interview next? Or what kind of questions you want my guests to answer? Drop me a message on Linkedin
Connect with Dan Clark online linkedin Instagram Email
About Brain.fm brain.fm creates music designed for the brain to enhance focus, relaxation, meditation, naps and sleep. This makes their music unique, purpose-built to steer you into a desired mental state.
List of books mentioned in this interview
Atomic Habits: An Easy & Proven Way to Build Good Habits & Break Bad Ones Hardcover – by James Clear
Losing My Virginity Kindle Edition by Richard Branson
Relentless: From Good to Great to Unstoppable Hardcover – by Tim S. Grover
Find out more at https://sergey-ross-podcast.pinecast.co