#58 Doug Kessler on creating Engaging B2B content for your audience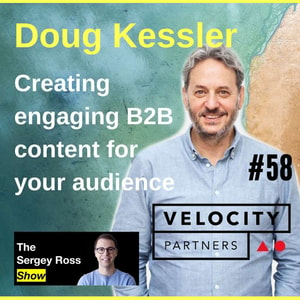 So excited to talk to Doug Kessler about one of my favourite topics - creating engaging content for your audience.
Doug is co-founder and creative director of Velocity Partners, the London- and New York-based B2B multi-award winning marketing agency. Doug wrote a lot of very strong content pieces like "the B2B Content Strategy Checklist, Insane Honesty in Content Marketing and Crap: Why the Biggest Threat to Content Marketing is Content Marketing".
In this interview we cover different angles of content such as:
what b2b can learn from b2c

Doug's 5 step storytelling framework and how you can apply it

what can you do better as a marketer right now
Learn more about Doug Example of his work The search for meaning in B2B marketing
If you'd like to share what you think about this episode, connect with me on Linkedin
Resources mentioned on the show:
"Marketing Myopia" article by Theodore Levitt
The Innovator's Dilemma: When New Technologies Cause Great Firms to Fail by Clayton M. Christensen
Crossing the Chasm, 3rd Edition: Marketing and Selling Disruptive Products to Mainstream Customers by Geoffrey A. Moore
Find out more at https://sergey-ross-podcast.pinecast.co