#47 Inside the Mind of a Technical CEO with Zak Hemraj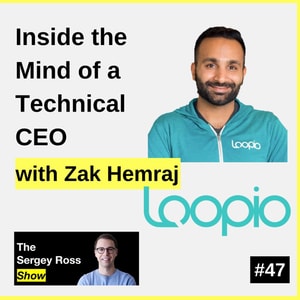 In my 47th interview I had an opportunity to meet with the CEO of Loopio Zak Hemraj and talk about his mindset as a leader of one of the fastest growing B2B SaaS companies in Canada, how did he get started, his principles and drive, the importance of focus and limiting distractions, favourite business books and hypothetical questions to really expose Zak's thinking. Enjoy the episode!
One thing before you take off: Have an idea who I should interview next? Or what kind of questions you want my guests to answer? Drop me a message on Linkedin or Email me directly
About Zak He is the Co-founder and CEO of Loopio, a Toronto-based software company that accelerates the RFP response process for companies in a variety of industries. He started his career at Achievers, where he worked in a few roles across Software Development and Sales, as the company grew from 20 to 300 employees over 8 years. After being inspired by the problems and opportunities he was exposed to at Achievers, Zak decided to take the entrepreneurial plunge. He co-founded Loopio in 2014 along with his closest friends, Matt York, and Jafar Owainati. Loopio has grown to over 90 people, raised $9M in Series A funding from OpenView Venture Partners, and serves more than 500 customers globally.
Connect with Zak on LinkedIn or Twitter
List of books mentioned in this interview
Powerful: Building a Culture of Freedom and Responsibility
Measure What Matters: How Google, Bono, and the Gates Foundation Rock the World with OKRs
Radical Candor: Fully Revised & Updated Edition: Be a Kick-Ass Boss Without Losing Your Humanity
Find out more at https://sergey-ross-podcast.pinecast.co