#39 How to Be a Person of Influence with Susan Bowen (the CEO of Aptum Technologies)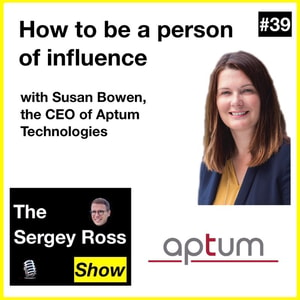 How do you become a person of influence? I had an opportunity to learn and interview how the CEO of 600 people tech company thinks and approaches her career and life.
Susan shares what's it like to be a CEO, the importance of curiosity and drive, her role models and mentors, values and routines (and more).
Before you go: if you find this interview helpful (or have feedback), it would mean a lot to me if you leave your review on Apple Podcasts and share my podcast with your friends.
Episode Details
More about Susan Bowen. She was named one of the The 50 Most Influential Women in UK Tech 2017. Was the chair of techUK, formerly known as Women in Tech. Led and transformed businesses for over 16 years.
Follow Susan on LinkedIn
About Aptum Technologies (formerly Cogeco Peer 1) A 600 people B2B company that provides products and services, such as colocation, network connectivity, managed hosting, cloud services and IT managed services. Cogeco Peer 1 is headquartered in Toronto, ON, Canada.
List of books mentioned on this episode
No Dream Is Too High: Life Lessons From a Man Who Walked on the Moon
Jenson Button: Life to the Limit: My Autobiography
Find out more at https://sergey-ross-podcast.pinecast.co