#57 Nikhil Pandey on Creating Entertaining Content and Acting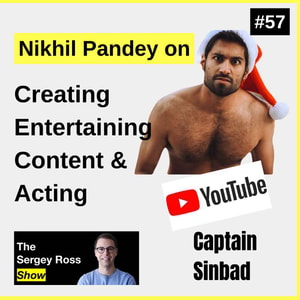 Today's interview is different from my usual ones. I'm interviewing Nikhil who is an aspiring actor and runs his entertainment YouTube channel with over 200,000 subscribers.
We are chatting about what it takes to create video content that is entertaining and the audience wants to consume, what process Nikhil uses right now, challenges of acting as a career and Nikhil's future youtube projects.
If you'd like to share what you think about this episode with me, drop me a message on Linkedin
More About Nikhil Pandey
Nikhil runs a Youtube channel creating personal development and entertainment content for 2 years. He is behind impersonations of well known folks like Gary Vee, Connor McGregor, David Goggins, Tai Lopez, Jordan Peterson and others.
See Nikhil's work on Youtube
Find out more at https://sergey-ross-podcast.pinecast.co