#63 Sendoso CMO Daniel Frohnen shares how to run personalized B2B campaigns that stand out at scale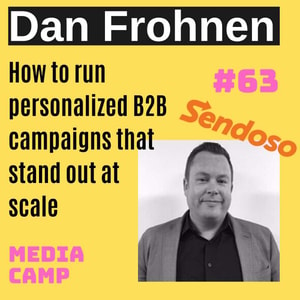 I love talking to people like Dan who help other b2b businesses run personalized campaigns.
Dan is a CMO of a company called Sendoso. They deliver direct mail, personalized gifts, eGifts at scale to build relationships with companies you want to sell to.
We are chatting about:
successful campaigns he ran and why they worked
how you pick your target accounts to send them gifts
where you get home addresses of people since they work from home
Connect with Dan
Linkedin Check out Sendoso website
Say HI to me on Linkedin I'd love to connect Linkedin