#54 Marie Chevrier on Dealing With The Ups And Downs Of Entrepreneurship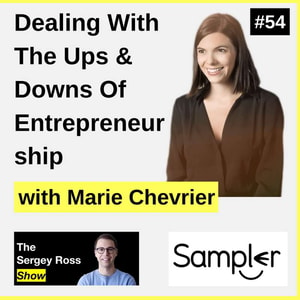 This is the most fun interview I have done in a long time! I've visited an office of Sampler to chat with their CEO Marie about entrepreneurship, sacrifices, ups and downs of running a business, routines, meditation and what makes Sampler cool.
If you can take one thing away from this interview it's a message that we are more powerful than we think we are. Marie's story is full of examples and stories that prove it.
One thing before you take off: Sign Up for my weekly email list for the latest productivity, time management tools and hacks here
Connect with Marie on linkedin
Check out Sampler No matter what your sampling needs are, we've got a solution for you.
Attend a RetailTO event here (Marie hosts it).
List of books mentioned in this interview
Purple Cow: Transform Your Business by Being Remarkable by Seth Godin
Find out more at https://sergey-ross-podcast.pinecast.co