#18: Abdul Habboub | How to Develop a Winning Sales Mindset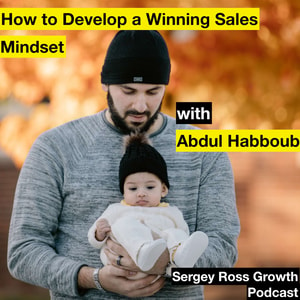 Mindset was and will always be at the heart of this show. I've been fortunate to meet-up with Abdul Habboub (Director of Account Development at Densify) and share his wisdom with you.
We are talking about the most common sales myths, what mindset you need to be successful in sales, how to hire superstars, why resume is bullshit and Abdul's book recommendations.
Before you go, please leave a ⭐⭐⭐⭐⭐⭐ review and share the podcast with your friends! Be sure to check out more insights on my Instagram @sergeyross.live and follow my Facebook page @sergeyrosslive.
**Follow Abdul and his work:
GET these amazing books Abdul recommends (I've already did!)
Resilience: Hard-Won Wisdom for Living a Better Life
The Ultimate Sales Machine
12 Rules for Life: An Antidote to Chaos