#19: Nathan Monk | The Road to Scaling and Marketing a Tech Startup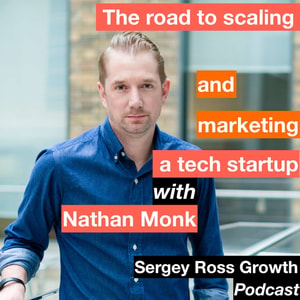 I'm having a great chat with Nathan Monk about startups, founders and marketing.
Nathan is a Director of Growth Programming at MaRS Discovery District and works with hundreds of startups in Toronto.
We touch on a lot of cool areas in this episode like:
What a great full-stack marketer looks like in 2019

Data versus qualitative feedback - what's more important

How not to overthink your product development
Also Nathan gives the LARGEST stack of books recommendations to you all. They are brilliant.
Before you go, please leave a ⭐⭐⭐⭐⭐⭐ review and share the podcast with your friends! Be sure to check out more insights on my Instagram and follow my LinkedIn Page
Follow Nathan and his work:
Grab Nathan's book suggestions:
Good To Great: Why Some Companies Make the Leap...And Others Don't
The Startup Owner's Manual: The Step-By-Step Guide for Building a Great Company
Ego Is the Enemy
The Founder's Dilemmas: Anticipating and Avoiding the Pitfalls That Can Sink a Startup
Grit
Hooked: How to Build Habit-Forming Products
The Power of Habit: Why We Do What We do in Life and Business
Focus: The Hidden Driver of Excellence