#46 Leadership & Mindset You Need to Make People Better with Carmine Cinerari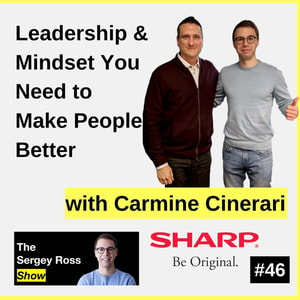 Today I had an opportunity to interview the President of Sharp Canada Carmine Cinerari. He was the first Canadian-born executive to lead Canadian subsidiary of a Japanese company Sharp Electronics. Became the youngest president ever in 2008 and has been president for over 11 years.
We are speaking about Japanese philosophy in business, work ethic, leadership principles, Carmine's mindset during very tough financial times at Sharp, morning evening routines and a lot more.
One thing before you take off: Have an idea who I should interview next? Or what kind of questions you want my guests to answer? Drop me a message on Linkedin or Email me directly
About Sharp Canada At Sharp Electronics of Canada Ltd, a direct subsidiary of Osaka-based Sharp Corporation - a company known worldwide for its unique one-of-a-kind electronic products and solutions, our challenge is to create a balance between work time and personal time, with products that can benefit people's lives at work, at home, and everywhere in between. Sharp consumer electronics can enhance your enjoyment, add to your comfort and open new perspectives.
List of books mentioned in this interview
Good To Great: Why Some Companies Make the Leap...And Others Don't
21 Lessons for the 21st Century
Find out more at https://sergey-ross-podcast.pinecast.co