#48 Why Entrepreneurs Need a Business Coach with Brent Lowe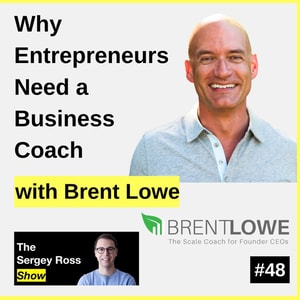 This is my 48th interview with someone who lives and breathes the psychology of business Brent Lowe. He coaches the very best people in tech in Canada.
We are covering the whole spectrum of entrepreneurial psychology here: thoughts and beliefs that are slowing founders down, the art of focus, how to maximize your time, phases entrepreneurs go through, benefits of non-hierarchical company structure, nuances of goal setting and more.
One thing before you take off: Have an idea who I should interview next? Or what kind of questions you want my guests to answer? Drop me a message on Linkedin or Email me directly
About Brent Brent Lowe directly focuses on psychology of business in his work. He founded three successful companies by the age of 24, was on a senior leadership team of three early-stage and fast growing companies (Redknee, Achievers, Bullfrog Power). He is a business coach, advisor and author of the book "Reinventing Scale-Ups: Radical Ideas for Growing Companies". Currently Brent is helping clients grow their businesses. Among them are the very best people in tech in Canada.
Connect with Brent on his website, Twitter or LinkedIn
List of books mentioned in this interview
Reinventing Scale-Ups: Radical Ideas for Growing Companies
Crucial Conversations Tools for Talking When Stakes Are High, Second Edition
Find out more at https://sergey-ross-podcast.pinecast.co